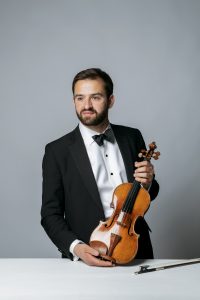 Sunday, January 15, 2023 3:00p.m. – Bombyx Center
Program
Haydn: Trio in A major, XV: 18
Antonin Dvořák: Piano Trio in E minor, Op. 90, "Dumky"
Intermission
Mendelssohn: Piano Trio in C minor, Op. 66
Taken from Orion Weiss' website:
One of the most sought-after soloists in his generation of American musicians, the pianist Orion Weiss has performed with the major American orchestras, including the Chicago Symphony, Boston Symphony, Los Angeles Philharmonic, and New York Philharmonic. His deeply felt and exceptionally crafted performances go far beyond his technical mastery and have won him worldwide acclaim. With a warmth to his playing that reflects his personality, Orion has performed with dozens of orchestras in North America and has dazzled audiences with his passionate, lush sound. Read more on his website.
Taken from William Hagen's website:
William Hagen has performed as soloist, recitalist, and chamber musician across the United States, Europe, and Asia. In 2021, William makes his debuts with the Chicago Symphony Orchestra at the Ravinia Festival and the Chamber Orchestra of Europe at the Rheingau Music Festival, and appears at the Santa Fe Chamber Music Festival. Read more on his website.
Taken from Nicholas Canellakis website:
Hailed by The New Yorker as a "superb young soloist," Nicholas Canellakis has become one of the most sought-after and innovative cellists of his generation, captivating audiences throughout the United States and abroad. In The New York Times his playing was praised as "impassioned … the audience seduced by Mr. Canellakis's rich, alluring tone." Read more on his website.