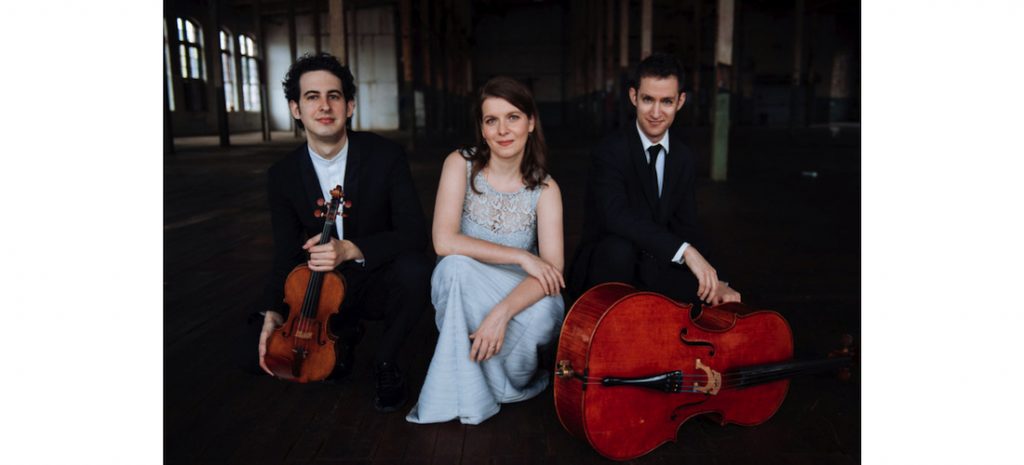 Lysander Trio
Itamar Zorman, Violin Michael Katz, Cello
Amy Yang (for Liza Stepanova), Piano
About Today's Concert – John Montanari, Artistic Director
Enrique Granados, who stands alongside Isaac Albéniz and Manuel de Falla among the leading composers of the early 20th century Spanish musical renaissance, is best known today for two works with the same title, Goyescas, inspired by the paintings of Francisco Goya. The popularity of the first, a massive suite for piano, led to the second, an opera in one act premiered at the Metropolitan Opera in January, 1916. The popular Intermezzo from the opera has been arranged for many different instrumental combinations, including today's version for cello and piano by the Catalan cellist and composer Gaspar Cassadó.
Imagine a chamber work consisting of nothing but six blues, each containing a smoldering slower verse (e.g., W. C. Handy's "St. Louis Blues") followed by a rocking up-tempo verse (e.g., Chuck Berry's "Roll Over Beethoven"). Well, that's the basic format for Antonín Dvořák's "Dumký" Trio. It consists of six movements in the style of the "dumka" (literally "little thought," plural "Dumký"), a Slavic folk ballad of Ukrainian origin. The Trio's strongly Czech quality no doubt stemmed from its being composed in 1891 for the 40-concert farewell tour that Dvořák, a confirmed homebody, conducted prior to sailing to the U.S. to assume the directorship of the National Conservatory in New York.
Last-minute circumstances prevented Beethoven's "Archduke" Trio from being part of today's program. In its place, however, is another of the glories of the Piano Trio repertoire, one which inspired Robert Schumann to write "(o)ne glance at Schubert's Trio and the troubles of our human existence disappear and all the world is fresh and bright again." I think I'll leave it at that.
Program
Intermezzo from Goyescas                  Enrique Granados
arranged by Gaspar Cassadó                (1817 – 1916)
Piano Trio No. 4 in E minor                        Antonin Dvořák
Op. 90, "Dumky"                                            (1841 – 1904)
Lento maestoso — Allegro quasi doppio
Poco adagio — Vivace non troppo — Vivace
Andante — Vivace non troppo — Allegretto
Andante moderato — Allegretto scherzando — Quasi tempo di marcia
Allegro
Lento maestoso
INTERMISSION
Piano Trio in B-flat Major                Franz Schubert
D. 898                                                   (1797 – 1828)
Allegro  — moderato
Andante  — un poco mosso
Scherzo  — Allegro
Rondo — Allegro vivace
About the Lysander Trio

The Lysander Piano Trio has spent over a decade performing recitals at notable venues such as Lincoln Center's Alice Tully Hall, West Palm Beach's Kravis Center, and Los Angeles' Da Camera Society; at college series including Middlebury College and Purdue University's Convocations Series; and at summer and festival appearances including the Bard Music Festival, Cooperstown Summer Music Festival, Copenhagen Summer Festival, the Chautauqua Institution, and Princeton University Summer Chamber Concerts. They have performed as orchestral soloists playing the Beethoven triple concerto with several orchestras.

The Trio has a long-standing commitment to working with living composers and building a new repertoire for the piano trio. The trio records with CAG (After a Dream) and First Hand Records (Mirrors). The Lysander Trio takes its name from the character in Shakespeare's A Midsummer Night's Dream.