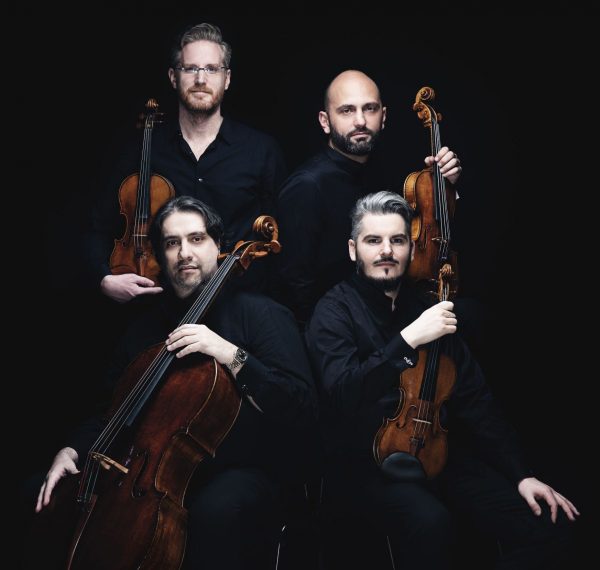 About Today's Concert – John Montanari, Artistic Director
Maurice Ravel's String Quartet in F Major was dedicated to his friend and teacher Gabriel Fauré, who offered encouragement to Ravel when other leading professors at the Paris Conservatoire were disdainful of his unconventional musical ideas. Well, they didn't much like this piece either, but it became one of the 28-year-old composer's first major successes. Modeled after Claude Debussy's String Quartet in G Minor, Ravel's Quartet is characterized by the range and brilliance of instrumental color we associate with his celebrated orchestral works.
From Osvaldo Golijov: "I wrote Tenebrae as a consequence of witnessing two contrasting realities in a short period of time in September 2000. I was in Israel at the start of the new wave of violence that is still continuing today, and a week later I took my son to the new planetarium in New York, where we could see the Earth as a beautiful blue dot in space. I wanted to write a piece that could be listened to from different perspectives…The compositional challenge was to write music that would sound as an orbiting spaceship that never touches ground. After finishing the composition, I realized that Tenebrae could be heard as the slow, quiet reading of an illuminated medieval manuscript in which the appearances of the voice singing the letters of the Hebrew Alphabet (from Yod to Nun, as in Couperin) signal the beginning of new chapters, leading to the ending section, built around a single, repeated word: Jerusalem."
A virtual tone poem in miniature, Arnold Schoenberg's Quartet No. 1 in D minor may be based on a program (a story, narrative, or other extra-musical basis) that Schoenberg in later life hinted at but never revealed. In four thematically unified movements performed without pause, ranging from hang-on-for-dear-life fury to melting lyricism, it may be the first quartet to fully confront the challenge laid down by Beethoven in his late quartets, works that Schoenberg, ever-conscious of his role in the history of Austro-German music, acknowledged as antecedents. Prepare for an amazing journey – one that will make you all the more glad that we can gather together once again for great music.
Program
Maurice Ravel (1875-1937)
String Quartet in F major, M. 35
Allegro moderato – Tres doux
Assez vif – Tres rhythme
Tres lent
Vif et agite
Osvaldo Golijov (1960)
Tenebrae
Movement 1
Movement 2
Intermission
Arnold Schoenberg (1874-1951)
String Quartet No. 1 in D minor, Op. 7
Nicht zu rasch
Kräftig
Mäßig
Mäßig – heiter
About Quartetto di Cremona
Since its formation in 2000, the Quartetto di Cremona has established a reputation as one of the most exciting chamber ensembles on the international stage. Regularly invited to perform in major music festivals in Europe, North and South America, and Far East, they garner universal acclaim for their high level of interpretive artistry.
BBT Fellowship prize winner in 2005, the ensemble received also the "Franco Buitoni Award" (2019) for its constant contribution to the promotion of chamber music in Italy and around the world. In 2021, Quartetto di Cremona was designated a Si-Yo Master Artist™️ Ensemble.
In 2020 the Cremona celebrated its first twenty years of career, with distinguished concerts and recording projects developed over consecutive seasons. Among them, the release of "Italian Postcards" (Avie Records), which assembles evocations of the Mediterranean country by four non-natives composers, such as Mozart, Wolf, Tchaikovsky and Nimrod Borenstein who wrote a brand-new piece for the occasion. The album has been very well received by the international critics.
The 2020–21 season highlights included debut performances at the Rudolfinum in Prague and at the CRR Concert Hall in Istanbul, as well as concerts in Germany, France, Scandinavia and at major Italian concert societies.
The 21/22 season includes concerts in Milan, Rome, Madrid, Linz, Montreal, Houston, the debut at Chamber Music Society of Lincoln Center in New York and at the Kuhmo International Festival (Finland).  The Quartet is also collaborating with numerous artists such as Angela Hewitt, Eckart Runge, David Orlowsky, and the Emerson Quartet.
Noteworthy previous recording projects include a double CD dedicated to Schubert and featuring cellist Eckart Runge. The album was recorded with the Stradivarius set of instruments named "Paganini Quartet", on kind loan from the Nippon Music Foundation (Tokyo), and attracted high levels of acclaim in the international press. Same goes for the Beethoven's string quartets cycle: the eight volumes won prestigious awards (including Echo Klassik 2017 and ICMA 2018) and received numerous recognitions from specialized critics.
Frequently invited to present masterclasses in Europe, Asia, North and South America, the members of the quartet have been Professors at the Walter Stauffer Academy in Cremona since 2011. They are ambassadors for the international project "Friends of Stradivari" and honorary citizens of Cremona, UNESCO Cultural Heritage for violin making. They also endorse the "Le Dimore del Quartetto" project and Thomastik Infield Strings.
Letter from the VCC Board of Directors
The Board of Valley Classical Concerts welcomes our audience to the Spring 2022 season!
The last two years have been challenging for everyone. At VCC, we have not been able to produce a live concert since February 2020. Since VCC is the only arts organization in the Pioneer Valley still presenting live chamber concerts from
internationally recognized chamber ensembles, we are particularly excited- for our audience, for the musicians, and for ourselves – that we have five concerts this spring. VCC can present only one concert at Sweeney (Richard Goode) but have secured two other venues: St. John's Episcopal Church in Northampton and Bombyx Center for Arts & Equity in
Florence.
The Season
Quartetto di Cremona – February 5, 2022, 7:00 PM, St. John's Episcopal Church, Northampton
Verona String Quartet – February 20, 2022, 3:00 PM, Bombyx Center for Arts & Equity, Florence
Lysander Trio – March 20, 2022, 3:00 PM., Bombyx Center for Arts & Equity, Florence
Richard Goode- April 10, 2022, 3:00 PM, Sweeney Hall, Smith College, Northampton
Apple Hill String Quartet with guest, Judith Gordon –May 1, 2022, 3:00 PM, Bombyx Center for Arts & Equity, Florence