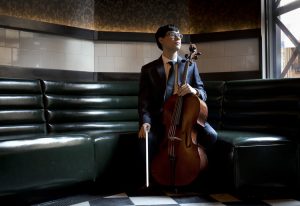 Wednesday, March 8, 2023 7:30 pm – Sweeney Concert Hall
Program:
François George Hainl: Fantasie on Themes from William Tell by G. Rossini
Beethoven: Sonata in A Major for Piano and Cello, Op. 69
Beethoven: 12 Variations on Mozart's  "Ein Mädchen oder Weibchen" from Die Zauberflote, Op. 66
Wagner: Walther's Prize Song from Die Meistersinger von Nurnberg, arr. For cello and piano
Marshall Estrin: Fantasia Carmèn
Taken from Zlatomir's website:
The first American in four decades and youngest musician ever to win First Prize at the International Tchaikovsky Competition Cello Division, Zlatomir Fung is poised to become one of the preeminent cellists of our time. Astounding audiences with his boundless virtuosity and exquisite sensitivity, the 22-year-old has already proven himself to be a star among the next generation of world-class musicians. A recipient of the Borletti-Buitoni Trust Fellowship 2022 and a 2020 Avery Fisher Career Grant, Fung's impeccable technique demonstrates a mastery of the canon and an exceptional insight into the depths of contemporary repertoire. Read more on his website.
Taken from Richard Fu's website:
Shanghai-born American pianist Richard Fu is an aspiring recitalist with an affinity for vocal and string repertoire and a growing interest in opera and new music. Though he had wanted to become a lawyer growing up and began as a political science major at Dartmouth, Richard fell in love with classical music while studying abroad in Vienna and changed focus to music midway. He continued his studies at the Royal College of Music (RCM) in London, University of Oxford, the Juilliard School, and Kunstuniversität Graz where he currently studies with Julius Drake.​
At Dartmouth, Richard received the Mark L. Lebowitz 1977 Memorial Prize for outstanding undergraduate music student, Macdonald-Smith Prize for high achievement in musical performances, and first prize in the Gerald A. Tracy Memorial Scholarship Piano Competition. Other solo distinctions include second prizes at Los Angeles International Liszt Competition and RCM's Kendall Taylor Beethoven Competition, as well as concerto performances with the Oxford University Philharmonia, Dartmouth Symphony Orchestra, and Dartmouth Chamber Orchestra. Read more on his website.